---
---
 

'

The Rabbit & Deer Diffuser uses ultrasonic diffusion combining the advantages of a humidifier, air purifier, atomiser, and aromatherapy diffuser

'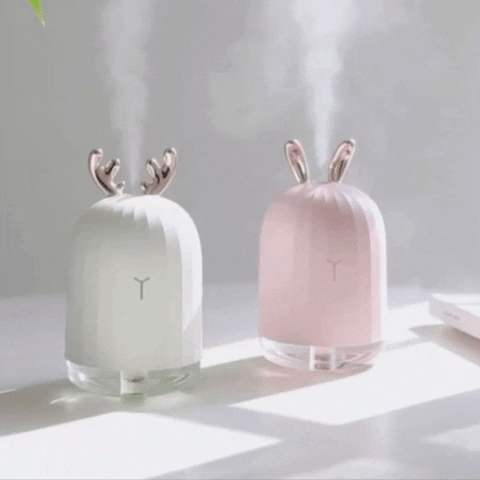 A combined humidifier-diffuser has many benefits within the environment you find yourself working in. Humidifiers primarily increase the moisture within a room which can lead to a host of positive results; the removal of germs from the air, improving dry skin and hair, allergy alleviation, the soothing of dry irritated throat and nasal passages, and assistance with dry unproductive coughs. Check out our top 5 reasons to use a humidifier down below. On the other hand, the diffusing aspect allows essential oil to disperse into the air, refreshing the surrounding environment with your favourite fragrance.
Why our rabbit & deer humidifier is the best?
The Rabbit & Deer Ultrasonic Diffusers use ultrasonic diffusion that combines the advantages of a humidifier, air purifier, atomiser, and aromatherapy diffuser, into one, by breaking a mixture of essential oils and water into millions of micro-particles and dispersing them into the air. If you run out of essential oils or simply don't wish to use any, the unit can still be used as a humidifier to keep the room feeling fresh.
The Rabbit & Deer Ultrasonic Diffusers are both unique and charming. They are compact, lightweight and fully rechargeable, meaning that, no matter where you travel, humidity levels can remain constant. The device is compatible with any USB power source making it both universal and convenient. The elegant, yet playful design allows for versatile placement within a home, car or office environment. 
Not only is it perfect during the day, the ultrasonic technology is whisper quiet and can be programmed with a 4 hour automatic shut off allowing you to breath easy and drift into a deep slumber at night. A lamp is also built into it's base to help brighten up your space when required.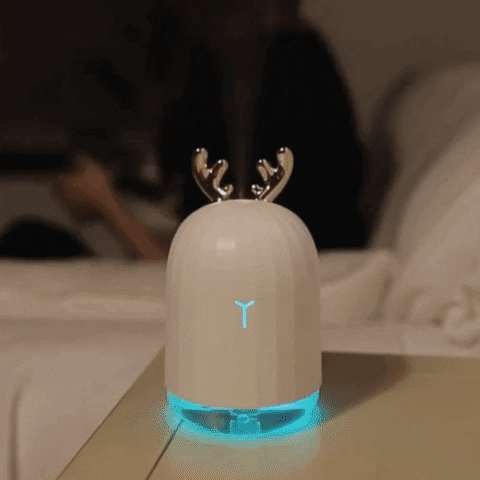 You can simply enjoy with water or combine with a few drops of essential oils to incorporate a relaxing fragrance of your choice.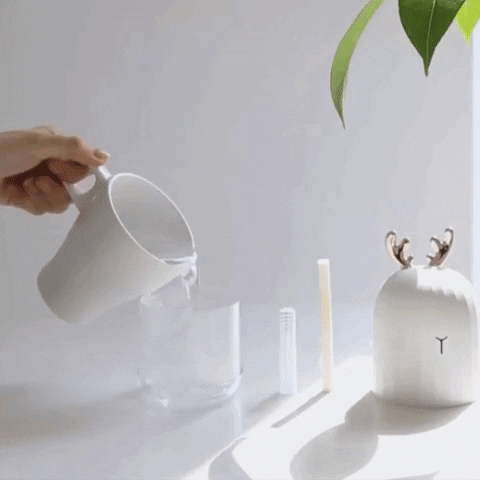 The Rabbit & Deer Ultrasonic Diffuser envelops your surroundings by producing a cool mist to add moisture and fragrance to relieve stress. With this unique device you can always work, exercise, or play, in a calm and relaxing environment.
'Allow the calming mist to keep you refreshed all day long'
5 TOP REASONS TO USE A HUMIDIFIER

1) Modern humidifiers can alleviate symptoms of allergies. Allergy sufferers tend to feel more comfortable with heightened humidity levels, as it may help to soothe the tissue in the throat and nasal passages.
2) Dry conditions may pull moisture out of the skin leaving it dry. Our bodies rely on the correct amount of water to function properly. Running a humidifier can help prevent skin drying out. The added moisture may help to improve dry, irritable skin, peeling or chapped lips and dry eye irritation.
3) Studies have shown that raising the humidity levels within a room or in a home can help prevent the spread of viruses. Moisture has the ability to prevent the movement of germs, as they combine with this moisture and simply drop. This happens because the airborne particles become too heavy to float around in the air. In turn, this helps prevent the spread of many illnesses, including influenza. 
4) Added moisture in the air, which can soothe tissue at the back of the throat, can help you to sleep more comfortably and can also reduce the amount of snoring. Snoring itself can often result in throat irritation, therefore a humidifier may be one preventative measure to solve the issue.
5) Dry air can cause a person to have a dry, unproductive cough. Adding humidity into the air can get more moisture into the airways, which can make a cough more productive. A productive cough can help to release trapped or sticky phlegm.
'Don't neglect the air you breathe'
WHAT'S IN THE BOX?
1 x 220ml Portable Ultrasonic Diffuser

1 x USB Cable

1 x Instruction Manual
DIMENSIONS:
in - 3.1 x 3.1 x 0.5
cm - 8 x 8 x 1.3
WATER TANK CAPACITY:

220ML
USER NOTES:
1. Do not add water over MAX line (less water, more mist)
2. Oil is not included in the package.
3. Please use water-soluble essential oils, which will help fill your space with more fragrance without affecting mist output
4. We recommended that you clean the diffuser after each use to avoid clogging and other problems. Empty the water and gently wipe the water tank to dry. DO NOT wash the device directly under the water tap.
SHIPPING & DELIVERY:
Shipping is free on orders over $50.
Orders under $50 have standard delivery fee of $4.99.
International Delivery: 5-14 business days.
Countries that we deliver to: Australia, Austria, Belgium, Canada, France, Germany, Ireland, Netherlands, Italy, Poland, Spain, Sweden, Switzerland, United Arab Emirates, United Kingdom and United States.
If you any further questions regarding this product, please feel free to reach out to us at support@homeoffice-ergonomics.com
I took it as a gift. It came in a Duper. The box is whole. Goods satisfied
After about an hour of work, the backlight goes missing, but the jet also goes. At the expense of efficiency, I did not notice. The size is very miniature. No aramot.
Looks and works very nice, fast delivery. Recommended!