---
---
KEY FACTS
Sleek and compact design, perfect for remote or home working.
For use with tablet and laptops up to 15" screen size.

Adjustable X-bar aluminium frame (6 height positions).
DESCRIPTION
 70% of all laptops are not positioned optimally when in use. 
Over prolonged periods of time this can cause a 'slouched' or 'hunched' seating position, eye strain and unnecessary stress on the shoulders, neck and back. 
The X-plore laptop stand is the perfect solution to this 'age-old' workspace problem and works hand in hand with the flexibility of remote working.
The old X-plore design has been upgraded to include a fold-able aluminium alloy x-frame for increased durability and portability, and magnets at the base for enhanced sturdiness when typing.
The stands increased adaptability means that it can be used with laptops or tablets that have a screen size of up to 15.6''.  
It's, six level, adjustable frame ensures the most comfortable fit for your working space and should help to place the laptop screen at or near eye level.
The extra height also greatly reduces the heat build-up from the laptop due to increased air circulation.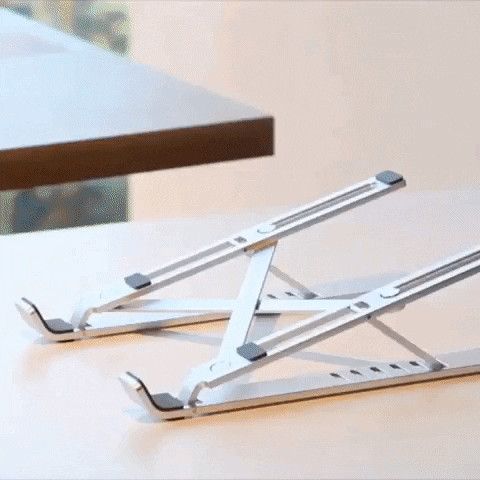 The anti-slip pads ensures stability when typing, whilst the carry case included allows for easy transportation. We love that it packs away easily and compactly, greatly reducing annoying desk clutter. 
This truly is a pleasure to use and a great advocate to healthy working. 
We encourage you to visit our wellness article on how to sit correctly at a desk for further tips.
"Sturdy and easily transportable, it is the laptop stand for modern day life on the go."
WHAT'S IN THE BOX?
1 x X-plore Laptop Stand
1 x Carry Case
DIMENSIONS:

in - 9.8 x 2.4 x 13.8
cm - 25 x 6 x 35
Note: for use with laptops or tablets with a screen size up to 15.6".
MATERIAL:
Aluminium Alloy + Silicon
SHIPPING & DELIVERY:
Shipping is free on orders over $50.
Orders under $50 have standard delivery fee of $4.99.
International Delivery: 5-14 business days.
If you any further questions regarding this product, please feel free to reach out to us at support@homeoffice-ergonomics.com

THE KEY HEALTH BENEFITS OF A LAPTOP STAND:
1) A laptop stand can help to prevent an 'arched spine' which often occurs when using a laptop below eye level. By lifting the laptop it helps to prevent the 'hunched' appearance and reduce stress on your back, neck and shoulders.
2) A laptop stand should help you to avoid screen glare by helping to position the screen at the correct angle. In turn, this should reduce strain on eyes which can often lead to headaches.
3) Elevating a laptop can help to keep the unit cooler. Laptops can produce a lot of heat and often get warm when the fan is not given the room to function properly. By lifting the laptop it allows the battery to remain cooler, which in turn can increase performance.
4) Often an external monitor is used alongside a laptop to increase screen space. When using an external monitor alongside your laptop, raising the laptop to a similar height level can help to reduce eyestrain and neck pain, which can occur when moving your eyes between screens on different levels.
'Negative impacts on your body shouldn't be the price you pay for working hard'
Useful for long hours working on laptop
Works well and the color is so nice!